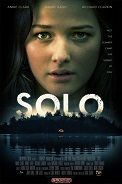 Shock Til You Drop is getting in on the horror distribution game. Last week, they revealed that they're teaming with The Orchard to find and distribute horror films, same as sites like Bloody Disgusting and Fangoria have done.
The first to be released will be 'Solo', Isaac Cravit's survival thriller, which will be available to rent or buy on October 22nd.
Written and directed by newcomer Isaac Cravit, the film stars Annie Clark as Gillian, a teen who takes a job as a counselor at a remote summer camp. As part of her initiation, she must spend two nights by herself on the camp's island, an intimidating collision of rock and wilderness carved out of the lake, supposedly haunted by the ghost of a camper who disappeared suspiciously decades before. When Gilllian's "solo" is interrupted by a local man responding to a distress call, what was meant to be a peaceful time alone in nature devolves into something disturbingly different. As her paranoia mounts, a horrifying secret is uprooted and Gillian finds herself in a desperate fight to survive.
Check the trailer out, below.