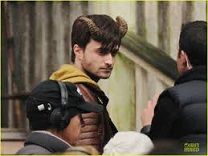 Deadline has learned recently that Radius-TWC and Dimension have picked up the U.S. distribution rights to Alexandre Aja's 'Horns'.
The film, which made it's world premiere at last month's Toronto Film Festival, stars Danielle Radcliffe, Juno Temple, Max Minghella, Joe Anderson, Kelli Garner, Heather Graham, David Morse, Kathleen Quinlan, and James Remar.
Keith Bunin wrote the script, based on the novel by comic book author Joe Hill. The logline: After being blamed for the death of his longtime girlfriend (Temple), a small-town guy (Radcliffe) awakens one morning to find a pair of horns growing from his head. The film was produced by Red Granite Pictures founders and producing partners Riza Aziz and Joey McFarland, in addition to Mandalay's Cathy Shulman. Aja is also a producer.
Dimension chief Bob Weinstein and RADiUS-TWC co-presidents Tom Quinn, and Jason Janego have been working on this deal since the festival. It was certainly a talked-up title that several distributors pursued. They haven't figured out the release configuration but are looking at 2014.
"I enjoyed working with Alex Aja on Piranha 3D," said Weinstein. "I think he's made a masterful film in Horns, and I'm thrilled to continue our relationship."