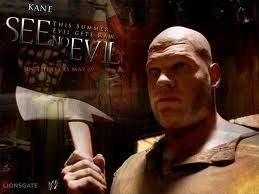 Dread Central has learned that WWE Studios' upcoming horror sequel 'See No Evil 2′ has gotten it's first cast members.
Scream queens Danielle Harris (the 'Halloween' franchise) and Katharine Isabelle ('American Mary', 'Ginger Snaps', 'Freddy vs. Jason') join Michael Eklund ('The Call', 'The Marine 3: Homefront', 'The Day') in the Soska Sisters-helmed 'See No Evil 2′ starring WWE Superstar KANE®.
Lionsgate will handle worldwide distribution of 'See No Evil 2′, while WWE Studios will utilize its extensive global reach through television, digital, and social media and print assets to market the film.
Synopsis:
See No Evil 2 revives the nightmare of the first film when Jacob Goodnight rises from the dead in the city morgue after his killing spree at the Blackwell Hotel. In this ominous, underground locker for the dead, a group of medical students fight to survive as the deranged psychopath once again starts to pick them apart one by one.