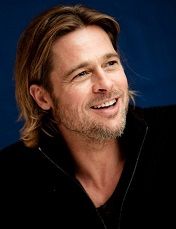 While promoting his new film, '12 Years a Slave', at the Toronto Film Festival, Brad Pitt was asked, by Variety, whether or not a sequel to 'World War Z' was in the works.
Based on the 2006 novel by Max Brooks, the zombie blockbuster underwent a complete rewrite and reshoot of the third act, hiking up the budget to nearly $200 million but 'World War Z', insiders say, ultimately prevailed thanks to an aggressive marketing campaign and positive reviews.
Paramount is said to be leaning on Pitt, whose company Plan B produced the film, to make another feature as the "World War Z" property was initially envisioned as a three-part franchise.
Check out Pitt's response to the sequel question.
Mireille Enos, who is in Toronto promoting her new film 'Devil's Knot', told Variety that she's on board 100% for the sequels.
"We'll wait and see how the script turns out but yes, I'd love to come back."
As for whom will write the second "World War Z" script remains to be seen.
Until then, Pitt next co-stars in and produces Steve McQueen's '12 Years a Slave', out in limited release Oct. 18.