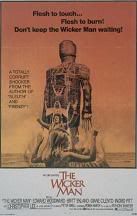 Shock Til You Drop is reporting that the mew;y restored cut of 'The Wicker Man' is getting U.S. distribution, via New York based Rialto Pictures.
Starring Edward Woodward, horror film legend Christopher Lee, stalwart Hammer vampiress Ingrid Pitt, and Swedish blonde bombshell/Bond Girl Britt Ekland, 'The Wicker Man' is top-notch stuff and essential viewing.
Butchered by its doomed UK distributor to fit on double bills, with its original camera negative apparently lost, the film has gathered a devoted fan base over the past four decades, with the complete version their Holy Grail. Some missing scenes were recovered from an obsolete one-inch broadcast tape, but over the years there were rumors of complete 35mm prints floating around.
Seen for decades only in mutilated copies, the new Studiocanal restoration is the culmination of a long search (conducted via Facebook) for the complete director's cut.
This year marks the 40th anniversary of the cult classic and Rialto will roll out the restored version beginning September 27th at IFC Center, New York City, with runs in Los Angeles, Chicago, Washington and other cities throughout the fall.