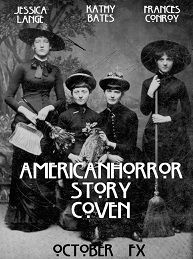 SpoilerTV has info on the upcoming 'American Horror Story: Coven'.
The dates and titles for the first three episodes is as follows.
Episode 3.01 - "Bitchcraft" (09-Oct-2013)
Episode 3.02 - "Boy Parts" (16-Oct-2013)
Episode 3.03 - "Replacements, The" (23-Oct-2013)
Jessica Lange is back and she'll be joined by Frances Conroy, Denis O'Hare, Taissa Farmiga, Jamie Brewer, Lily Rabe, Angela Bassett, Sarah Paulson, Evan Peters, Gabourey Sidibe, and Kathy Bates.
Alfonso Gomez-Rejon directs the season premiere.