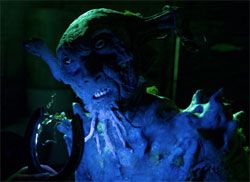 Shock Til You Drop is reporting that 'Red Clover' (aka 'Leprechaun's Revenge' is making it's way to DVD under the After Dark Original banner, after first airing on Syfy over a year ago.
Keep reading for a look at the cover art.
Billy Zane, William Devane, Kelly Washington, Courtney Halverson, Azure Parsons, Matty Ferraro and Kevin Mangold star. Why the film carries two titles, we don't know, but you can find it on DVD October 22nd.
Sixty-six years ago, the town of Irish Channel in Louisiana was the site of a horrible massacre on St. Patrick's Day. Some blame a terrible storm that blew through the town, but those that were there don't speak of the truth. Due to petty superstitions, St. Patrick's Day festivities were banned for the last 66 years, but now, the new Mayor wants to tempt fate and celebrate.