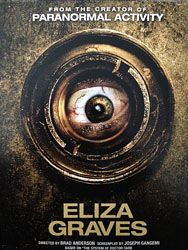 Deadline is reporting that Millennium Films' upcoming 'Eliza Graves' has two new cast members, in Brendan Gleeson and David Thewlis.
The Brad Anderson-directed thriller is based on a short story by Edgar Allen Poe and begins production next week. If it makes it, the Millennium Films project will mark the end of a long road for screenwriter Joseph Gangemi, who penned the script adapting 'The System Of Doctor Tarr And Professor Fether' 15 years ago, with three studios taking a crack at it before Millennium acquired U.S. rights at the last American Film Market.
Now David Thewlis and Brendan Gleeson have joined a cast that already includes Kate Beckinsale, Jim Sturgess, Ben Kingsley and Michael Caine in a thriller about a young doctor who comes to apprentice at a mental institution and meets a beautiful patient that he falls in love with amidst a set of difficult circumstances, which may be more complicated than they seem.
Bruce Davey, Mel Gibson, Mark Amin and Cami Winikoff are producing. Executive producers are David Higgins, Christa Campbell, Lati Grobman and Mark Gill.