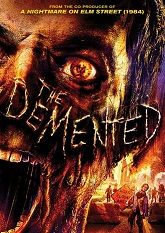 Shock Til You Drop has gotten the exclusive first look at the trailer for 'The Demented' starring Sarah Butler, Brittney Alger, Kayla Ewell, Richard Kohnke, and Michael Welch.
'The Demented' follows six college friends as they meet up for a carefree weekend in a beautiful rural home. A terrorist missile attack in a nearby town infects much of the townspeople with a deadly virus that induces rabies-like symptoms…with devastating consequences.
Writer-director Christopher Roosevelt makes his debut with this film.