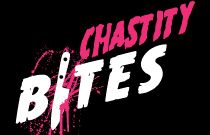 Shock Til You Drop has learned, exclusively, that 'Chastity Bites', the new horror-comedy from Weirdsmobile Productions, will be making it's World Premiere at the 16th edition of the Dances With Films film festival on June 1, 2013 at 11:45pm in Hollywood, California.
Keep reading for a look at the trailer.
The film, written and produced by Lotti Pharriss Knowles (producer on HBO Documentary Films' 'Vito' and 'I Am Divine'), marks the feature film directorial debut of John V. Knowles (short film 'SHADOW.NET').
Notorious serial killer Elizabeth Bathory believed that bathing in virgin blood would keep her young and beautiful forever. Still alive today she's found a perfect hunting ground for her "botox" as an abstinence educator in conservative America…but will a brave young blogger and reporter for the high school paper finally put an end to the "Blood Countess's" reign of terror, and save her best friend from becoming the next victim?
The film stars Allison Scagliotti ('Warehouse 13′), Francia Raisa ('Secret Life of the American Teenager'), Louise Griffiths ('The Revenant'), Eddy Rioseco ('Parenthood'), Amy Okuda ('The Guild'), Sarah Stouffer ('Bloomington'), Lindsey Morgan ('General Hospital'), Jennifer Gimenez ('The Real Housewives of Beverly Hills'), Greer Grammar ('Awkward'), and 'Re-Animator' director Stuart Gordon.