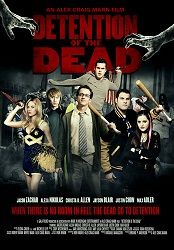 Shock Til You Drop has reported, recently, that 'Detention of the Dead' is set to debut on VOD on June 18th, and then. on June 28th, hit Los Angeles for a brief theatrical run.
Keep reading for a look at the official trailer.
Synopsis: Comedy and Horror unite in this 'The Breakfast Club' meets 'Shaun of the Dead' tale about a group of oddball high school students who find themselves trapped in detention with their classmates having turned into a horde of Zombies. Can they put their differences aside and work together to survive the night? Fat chance! This is High School after all.