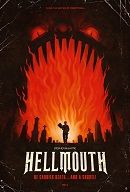 Horror-Movies.ca is reporting that John Geddes ('Monster Brawl', 'Exit Humanity') is looking to unleash a film entitled 'Hellmouth'.
The movie, written by Tony Burgess ('Pontypool'), is said to be a throwback to the films of the 1950s and it will be shot entirely on a green screen.
The film has already locked in some awesome acting talent such as Stephen McHattie ('300′, 'The Watchmen', 'A History of Violence'), Siobhan Murphy, Mark Gibson ('Exit Humanity'), Julian Richings ('Cube', 'Superman Man of Steel'), and Boyd Banks ('Dawn of the Dead').
'Hellmouth' is a harrowing story of one man's torturous battle with the world's most horrific ghouls and ghosts in a graveyard that turns reality into outer world fiction.
Now if you like the sound of things so far, I'm sure you want a piece of this, right? Well, they have recently set up an IndieGoGo page to help them with the final push, and if you'd like to be in on the action, go hit up the link and see how you can help. As always, you will be rewarded with an awesome perk.