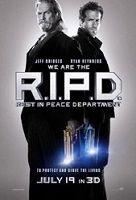 The Hollywood Reporter has gotten a look at the official teaser trailer for the upcoming 'R.I.P.D'.
The Universal Pictures film is directed by Robert Schwentke and stars Ryan Reynolds, Jeff Bridges, Mary-Louise Parker, and Kevin Bacon. It's slated for a July 19 release.
The film centers on Nick Walker (Reynolds), a police officer who is recruited into the R.I.P.D. (Rest in Peace Department) after being killed in the line of duty. He and his partner — a wild west sort named Roy Pulsipher (Bridges) — are tasked with tracking down members of the deceased who have evaded judgment. There's a definite Men in Black vibe to the trailer, with zany weaponry and gross-out bad guys.