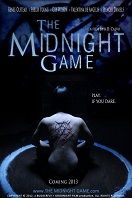 Shock Til You Drop has gotten a look at 'The Midnight Game', from indie filmmaker A.D. Calvo.
Keep reading for a look at the trailer.
Calvo previously directed 'The Other Side of the Tracks', 'The Melancholy Fantastic'. and 'House of Dust'. His latest is due for release sometime this year and you can check out the trailer inside.
In the film, a group of high school students find themselves trapped in an endless cycle of their worst fears after playing a Pagan ritual on a dare.
Renee Olstead, Shelby Young, Guy Wilson, Valentina De Angelis, and Spencer Daniels star.