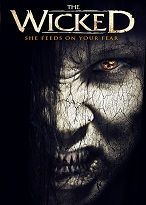 Bloody Disgusting has a look at the upcoming film 'The Wicked', with both a trailer and clips from the movie.
Read on.
Image Entertainment suggests you sleep with one eye open as your worst nightmares come to life in 'The Wicked'. A group of curious teenagers decide to seek out their town's local legend and go on the hunt for a child-eating witch, not realizing they could be her next meal! Directed by Peter Winther, the film stars Devon Werkheiser ('Beneath the Darkness'), Justin Deeley ('90210′), Nicole Forester ('The Double'), and Cassie Keller ('A Very Harold and Kumar 3D Christmas'). The DVD release is set for April 30th, and the title will also available via digital download.
"Local stories warn that deep in the woods, a witch with a ravenous hunger feeds on the flesh of the young. In an abandoned house in the woods, she hunts her victims…and if you try to enter, you'll never see daylight again. When another child goes missing, a group of local teenagers decide to find out if the urban legend is true. What starts out as a meaningless dare turns into a blood-spattered fight for survival against a mistress of darkness in this unrelenting nightmare from which you may never wake up!"
Check out the trailer below, or head over to B-D for a look at the images.