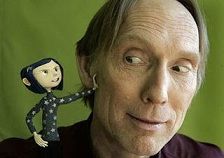 Shock Til You Drop has learned that filmmaker Henry Selick ('The Nightmare Before Christmas', 'Coraline') is teaming with Academy Award nominate producer Josh Penn ('Beasts of the Southern Wild') and KS International for his latest feature, 'The Shadow King'.
'The Shadow King' was, until recently, in hiatus after Disney exited the project. Alas, it is now moving forward…
KS International is bringing Henry Selick to the European Film Market at Berlin to conduct special presentations to select buyers with exclusive clips from the film screen behind closed doors as part of the presentation.
The film concerns nine-year-old New York orphan Hap, who hides his fantastically weird hands with long fingers from a cruel world. But when a living shadow girl teaches him to make amazing hand shadows that come to life, his hands become incredible weapons in a shadow war against a ravenous monster bent on killing Hap's brother Richard and ultimately destroying New York.