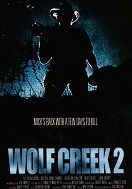 Shock Til You Drop is reporting that the sequel to Greg McLean's 'Wolf Creek' has three new cast members, to join John Jarrett.
Ryan Corr, Shannon Ashlun, and Philipe Klaus will star in 'Wolf Creek 2′, which recently begun principal photography.
The synopsis is as follows: Lured by the promise of an authentic Australian holiday, backpackers Rutger, Katarina and Paul visit the notorious Wolf Creek crater. Their dream Outback adventure soon becomes a horrific reality when they encounter the site's most infamous local, the last man any traveler to the vast and isolated region ever wants to meet; Mick Taylor.