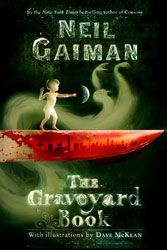 The Hollywood Reporter has learned that Ron Howard is in talks to helm 'The Graveyard Book', an adaptation of the childrens book by Neil Gaiman.
The book tells of a boy named Nobody Owens who is raised by ghosts in a cemetery after his family is murdered. When he is a teen, he is pursued again by his family's killer, a being called "the Man Jack." Graveyard won the Carnegie and Newbery medals for best children's book — the only time one work won both awards.
This project has had a troubled development in Hollywood. When Disney first acquired the rights, Henry Selick was set to make it as a stop motion feature. Howard plans to make it as a live action feature.
Gil Netter, a veteran producer with adaptations including 'Marley & Me' and 'Life of Pi' among his credits, is producing with Ben Browning.
Howard's boarding signals a new round of development for Graveyard. The director will oversee the writing of a new script, and Howard and Brian Grazer's Imagine Entertainment also might end up in a producer role.