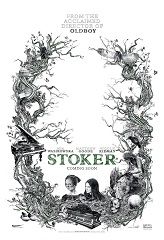 The teaser for "Oldboy' director Park Chan-wook's English language film debut, via Empire.
'Stoker' sees Kidman's Evie mourning the death of her husband (Dermot Mulroney) but comforted by the arrival of Uncle Charlie (Matthew Goode). Her daughter, India (Wasikowska), has never heard of this mysterious uncle before and finds herself intrigued by him - but is there more here than meets the eye? Well, it's a fair guess.
Keep reading for a look at the teaser.
The film is out on March 1, and also stars Jacki Weaver, Oscar nominated again this year for 'Silver Linings Playbook', Lucas Till and Alden Ehrenreich. Tony Scott, Ridley Scott and Michael Costigan produce
.