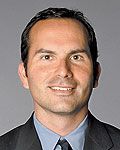 Variety has reported, recently, that Lionsgate is going ahead with a micro-budget feature division, with longtime production executive John Sacchi (pictured) tapped to head the operation.
Sacchi has a long track record in supervising Lionsgate films with exec producer credits on 'My Bloody Valentine', 'Punisher: War Zone' and 'The Possession', which grossed nearly $80 million last year.
He also oversaw the studio's Arnold Schwarzenegger actioner 'The Last Stand', which opens Friday.
The studio is aiming to replicate the success of Paramount Insurge, formed in the wake of the outsize success of producer Jason Blum's "Paramormal Activity." Insurge's "The Devil Inside" grossed more than $100 million worldwide last year at a cost of only $1 million.
The micro-budget arm is understood to be seeking horror and comedy projects with a pricetag of up to $2.5 million.