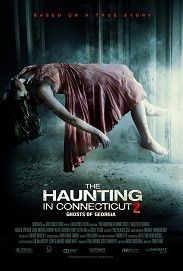 'The Haunting in Connecticut 2: The Ghosts of Georgia' is set for a limited theatrical release, as well as VOD platforms, on February 1st, 2013.
Bloody Disgusting has gotten the first official still for the film.
From the producers of 'The Haunting in Connecticut' comes the chilling true story of the Wyrick family. "When Andy Wyrick moves his wife Lisa and daughter Heidi to an historic home in Georgia, they quickly discover they are not the house's only inhabitants. Joined by Lisa's free-spirited sister, Joyce, the family soon comes face-to-face with a bone-chilling mystery born of a deranged desire… a haunting secret rising from underground and threatening to bring down anyone in its path."
Emily Alyn Lind, Chad Michael Murray, Abigail Spencer, Katee Sackhoff and Cicely Tyson all star in the film directed by Tom Elkins, (editor on 'The Apparition', 'The New Daughter', 'The Haunting in Connecticut' and 'White Noise 2: The Light').
Check out the first official clip and the trailer below.