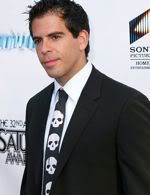 Shock Til You DRop has reported that Eli Roth ('Hostel', 'Cabin Fever') has wrapped filming on 'The Green Inferno'.
Shooting began in Peru last month. Roth still has post production to do on the film, before it's release.
The cannibal film, written by Eli Roth and 'Aftershock' co-writer Guillermo Amoedo, stars Lorenza Izzo, Ariel Levy, Aaron Burns, Daryl Sabara, Kirby Bliss Blanton, Magda Apanowicz, and actress/singer Sky Ferreria.
To commemorate the shooting wrap, Roth had a snapshot taken with his cast of "cannibals" which he shared with his Instagram and Twitter followers. Check out the full pic below.