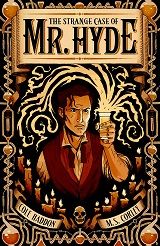 TheWrap has reported recently, in an exclusive, that the film adaptation for 'The Strange Case of Hyde' has found a new writer.
Screenwriter Albert Torres ('Akira', Henry Poole Is Here') has come on board to re-write the script for feature film adaptation of the Dark Horse graphic novel, 'The Strange Case of Hyde', one of his representatives has told TheWrap.
The film is based on the graphic novel of the same name, which was written by Cole Haddon and published in 2011. 'The Strange Case of Hyde' follow Dr. Jekyll, after he is allegedly rehabilitated, and released from prison to help hunt a new monster who appears to be using an improved version of the infamous Hyde serum.
The film is being produced by Dark Horse Entertainment, Skydance Productions and the Mark Gordon Company.