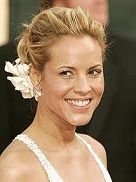 Shock Til You Drop has learned, via Dimension Films confirmation, that Maria Bello ('Thank You For Smoking') is signed as the lead actress in a new feature produced by James Wan (previously titled 'House of Horror').
The film is now being referred to as "The Untitled James Wan Presents Thriller" until it takes a new monikor. Wan is producing alongside Lee Clay ('Beautiful Boy').
Max La Bella penned the script from an original idea of Wan's. Shooting begins January 2013 in Baton Rouge, LA and the film will be released by Dimension Films.
The film centers on the aftermath of a horrific massacre: five college students, brutally murdered inside a decrepit, abandoned home. Fresh on the scene, detective Mark Lewis and the police department's psychologist, Dr. Elizabeth Klein (Bello), question one of the few survivors who explains they were amateur ghost-hunters, seeking out paranormal phenomenon at the abandoned house, believed to be haunted. But what started out as a harmless activity turned into something truly terrifying, and the suspect claims the responsibility doesn't lie with any of the inhabitants, but with the house itself.