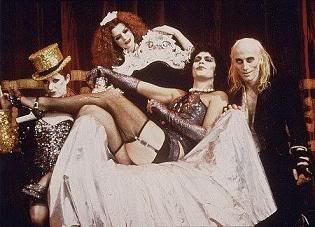 Remember back in '08 when MTV had plans for a 'Rocky Horror Picture Show' remake? Well that has since fallen through, and now Michael Bay's Platinum Dunes has acquired rights to the project.
Rumor had it, while MTV was still involved, that comedian Russell Brand would star as Dr. Frank Furter, It is unknown if he still is involved. Though, it has been all but confirmed that Robert Pattinson and Kristen Stewart (of 'Twilight' series fame) will star as the young couple Brad & Janet as a way to appeal to the younger crowd. In addition, Steve Buscemi is reportedly in early talks to portray Riff Raff; a role which was originally filled by 'Rocky Horror Picture Show' creator Richard O'Brien.
We'll keep you updated as more info comes out about this project. Until then… APRIL FOOLS!